GROUP SHOW
PAUSE | BOOKS - PART 1

PLATAFORMAS ONLINE



23 MAR - 17 JUN 2020

We were quarantined for just a few days... An indefinite period of time had just begun requiring everyone to social distance and redirect their attention and reactions into a completely new and unknown moment. Faced with this reality with no immediate resolution, we were forced to adjust to new forms of stimulation and identification in isolation. Aware of this inevitability, we decided to challenge our portuguese artists to contribute to its community struggling against apathy or the imminence of drowning into it. The contribution and participation was massive, enthusiastic, and we want to thank you all for your kindness and solidarity! This is the first part of a visual literary "exhibition", which debuted on March 23rdresulting from the participation of more than 40 artists on our Instagram page.
PAUSE Books is a project created and curated by Sérgio Parreira. The following texts were sent by the artists to accompany the published images.
I bought The Plague by Albert Camus when I came to Lisbon to study at FCSH. In fact, I bought the entire Camus collection because I didn't have much patience for Sartre and at FCSH, in 1992, it was imperative to be an existentialist. I was in the habit of buying books from used bookstores, the older the better, to look like they belonged to my family, and in this way, to make up for the fact that I never had a library at my parents' house. In 1992, the plague meant something else for me, AIDS, in the shadow of which I had grown up and in fear and have lived in, I believe, throughout my whole life. Then the computers arrived, and their viruses. Today, we currently live in the largest quarantine I can remember. I already have a library, full of books that I will never have time to read.
In Hopscotch, Julio Cortázar challenges the reader to explore two possible readings of the same book. -- Hopscotch (Spanish: Rayuela) is a novel by Argentine writer Julio Cortázar. Written in Paris, it was published in Spanish in 1963 and in English in 1966.
Jean-Christophe Rufin's The Abyssinian has the ability to transport us through time and space. Firstly, and to the beginning of the 18th century, under the aegis of an absolutist king and in a baroque environment of excesses and 'conquests'. Secondly, it is a novel with a travel tone into the lands of Ethiopia, projecting the reader onto the paths where the hatred of fanaticism and the strength of freedom can still make us happy.
Half of my books are influenced by people I come across in life, this one is no exception: K-Punk:The Collected and Unpublished Writings of Mark Fisher (2018), is a posthumous book of this theorist, released a year after his suicide. It fascinates me how the plurality of elements addressed here (from the diminutive to the masses) are starting points for a reflection on our time, mirrors for thinking about the effects of capitalism in its various sectors and identities. 'There was no future, but it wasn't like anyone expected' - these words easily echo in this fragile moment that we all are going through. There is an intellectual honesty that really captivates me, perhaps because of the 'simplicity' and lucidity with which matters are raised. Each page is a different point of view under the reality we live in today - over-stimulated and consumed by itself.
I send these books and not just one because I usually like to read several at the same time. I like to find points of contact between different authors and themes that at first glance would not be related but that with a different look, end up to be related. It is also in this transversal reading that I often find dialogues with my own work. Above all, I am interested in reading about the work process of other artists that are important to me.
1. Teresa Villaverde "Sem Fiordes"
2. Bruce Nauman (October Files)
3. Antony Gormley "On Sculpture"
4. Luigi Ghirri "The Complete Essays 1973-1991"
5. Carl Andre "Preface to my work itself…"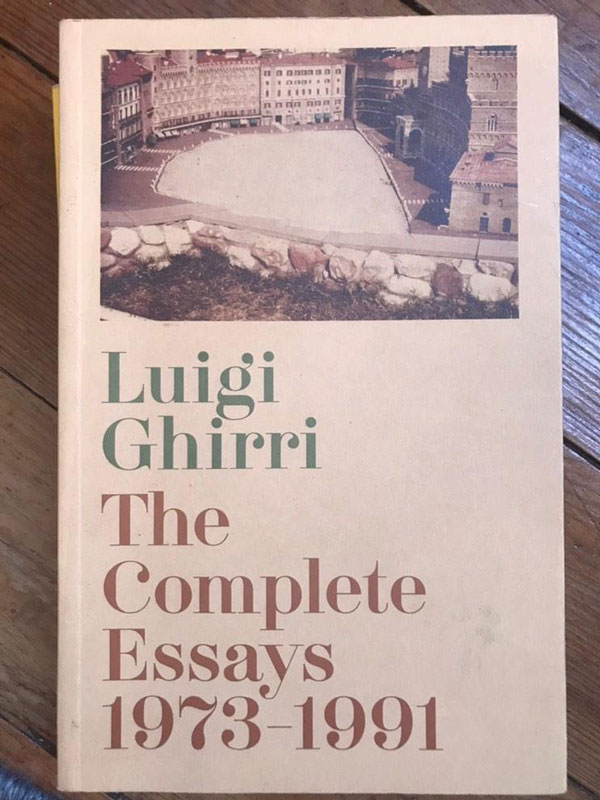 "Sapiens: A Brief History of Humankind" by Yuval Noah Harari. I started reading the book long before the current situation… I wasn't yet aware of what was coming. It seems to me an excellent work to rethink our existence as human beings. It's a really interesting and stimulating reading, and provides a perspective on how recent is our presence on earth, and for instance, our relation to agriculture and science, and why we should not take any of them for granted.
"Don Quixote" by Miguel Cervantes -- "Don Quixote was never on my list of books to read until I died... Hehehe. I decided to read it as part of my current research project. Turns out to be surprisingly up to date, Cervantes was truly a visionary. Much better than Don Quixote's struggle with the windmills is the discovery of fantastic characters such as a feminist peasant! Must Read!
"Nothing WIthout Us" by Alan Weisman. I bought this book as soon as I discovered it by the end of 2007, the premise is a bit tragic and radical, but caught my attention on the subject and the author. The Human race disappears, and how does nature transform itself? How do you react to this sudden human disappearance? Obviously hope this doesn't happen, but in these moments of confinement, it's when we understand our pressure onto nature, allowing us to understand and look into it differently, and for example, how the levels of pollution or noise are altered. Understand that the most relevant thing is perhaps to restore a little of global harmony and find ways that really differentiate human beings from everything else - the ability to adapt and change behaviors, cooperation, and solidarity. This is another chapter, tough to swallow, but certainly another chapter!
"Looking Through: Le Corbusier Windows" by Takashi Homma. A wonderful book when thinking about windows, about their role as spaces that connect the interior of a building and the surrounding landscape. After his encounter of the work of Le Corbusier and Pierre Jeanneret in Chandigarh in 2013, the Japanese photographer Takashi Homma decided to research and photograph the spatial and perceptual richness of windows in other works by Le Corbusier across the world. Some of those photos are now brought together in this book. "Indicative of his particularly stoic view of life, Le Corbusier believed that basic comfort and a view⎯along with some intellectual stimulation be it a good book, music or art⎯was all that men and women needed to be content." ⎯shares Tim Benton in his essay "From the fenêtre en longueur to the ondulatoires", that complements Homma's photographs by tracing the evolution of the concept of windows in Le Corbusier's work.
"Why I'm No Longer Talking to White People About Race: The Sunday Times Bestseller" by Reni Eddo-Lodge. A fundamental book for understanding structural racism and Western white privilege. It is the first book by Reni Eddo-Lodge, journalist, feminist and an amazing woman! It is time for immersion, to reflect on the old paradigms and to overcome them, to grow, to become more aware of what unites us as people and distance ourselves from what separates us.